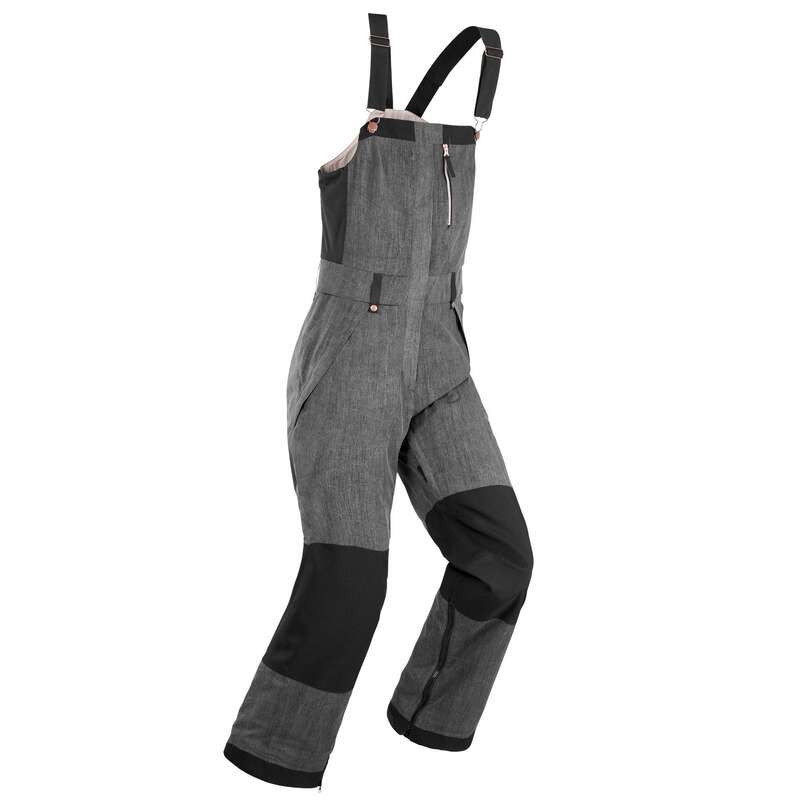 Evaluation of the entire life cycle of the product, its impact on the environment, including climate change and the depletion of natural resources.
Know more
WOMEN ADVANCED SNOWBOARD EQUIPMENT
WEDZE Women's Snowboard (and Ski) Salopettes SNB BIB 900 - Black
WEDZE
User rating
There's no review yet for this size
Decathlon
This price includes a recycling fee for electrical equipment and batteries
DecathlonDeeeTaxMentionAfterPrice
/
Since
From To
* Sales from

to

Until end of stock
This price includes a recycling fee for electrical equipment and batteries
DecathlonDeeeTaxMentionAfterPrice
/
Since
* From To
* Sales from

to

Until end of stock
Snowboard enthusiasts developed these salopettes with a feminine cut to provide the best durability and versatility for the demanding rider.
The SNB BIB 900 snowboard salopettes withstand all conditions, allow easy access to tighten your boots, an adjustable leg length and a 360° zip for going to the toilet easily.
Evaluation of the entire life cycle of the product, its impact on the environment, including climate change and the depletion of natural resources.
Know more
To help you choose the right size
The model on the photo is wearing a size M and measures 176 cm.
Their body measurements are:
Waist size: 70 cm
Hip measurement: 100.5 cm
Inside leg length: 86 cm
No compromise on your safety
The product is equipped with the RECCO system so that resorts equipped with the system can more easily search for the user in the event of an avalanche.
http://fr.recco.com/le-systeme-recco
How does my product warranty work?
This product is guaranteed for 5 years from the date shown on the sales receipt. A product covered by the warranty will be repaired or exchanged free of charge. The warranty covers product defects, excluding those resulting from normal wear and tear and improper use. This special 5-year warranty is only valid on presentation of the product and receipt.
How can I be sure that my salopettes are strong and durable?
We guarantee our products 5 years and will repair it with local professionals if you unfortunately damage it. Contact us on our website to find out more about what you need to do to have your product repaired.
We take particular care in choosing all the elements and assemblies that make up our products, so that they are as durable as possible for snowboarding use.
Can I compare the products' environmental impact?
The product's environmental footprint is calculated over its entire lifespan using various indicators. A score is assigned, from A to E, to help you easily identify the most eco-friendly products by comparing similar type products. Decathlon is committed to this approach:
Find all our sustainable initiatives at http://developpement-durable.decathlon.com/
A WAXÉ component to look different to all other riders
The main salopette component is a component called WAXÉ. Like denim, this component wears over time depending on how you use it. Your salopettes will represent your style and will be unique when compared to other riders. The new component can also have an appearance and wear that is different to the photo shown.
Versatile and clever product.
These salopettes were designed and co-created by and for snowboard enthusiasts. The product adapts to the length of your legs with an elastic system hidden in the pockets. If you have a wheel fastening system on boots (BOA and other brands), there is easy access to the tightening system without having to remove the gaiter. To avoid having to remove everything to go to the toilet, we designed a 360° zip to open the back of the salopettes!
Can I be sure my salopettes will protect me well in bad weather?
To tackle bad weather (rain, snow, wind, etc), the trousers have been developed with a component and assembly that prevents water from getting in and reduces wind chill. To confirm waterproofing, this product was placed under a specially designed shower that reproduces the conditions encountered by a snowboarder in the field. Finally, we have spent a few days snowboarding, in all conditions, to validate the waterproofing of the product.
Water often gets in through the seams. Do my salopettes have taped seams?
In addition to the waterproof fabric, we reinforce the waterproofing of the salopettes with taped seams. These are waterproof adhesive strips taped to the inside seams of the garment to make it perfectly watertight. All the product's seams are taped.
What is the point of the water repellent property of my salopettes?
The water-repellent feature makes water run off the fabric without seeping in thanks to a treatment applied to its outer surface. The fabric does not soak up water and stays light and warm. This treatment must be renewed during the life of the product, after 2 to 3 washes on average, using the products available in our stores. All the waterproof trousers that we design for snowboarders are water repellent.
What is a membrane and what's it for?
A membrane is a very thin component (between 5 and 25 micrometres) applied to the internal surface of a textile base to give it excellent waterproof and breathable capabilities. Our membrane components do not let water in and allow out the water vapour generated by your body when snowboarding.
How will my salopettes keep me warm?
To keep you warm, we use wadding insulation. Wadding is a synthetic component made from polyester which stores more or less air, depending on the length of the fibres. There are standard, technical and silicon coated waddings that have distinct properties (warmth, lightweight, elasticity...). The SNB PA 900 is also equipped with WARM SEAT technology which increases cold insulation at the seat by 54% when sitting in the snow.
How should you dress to avoid feeling cold on the slopes?
In order to keep warm and dry, we recommend using the 3-layer rule. The principle is simple: wear 3 layers of clothing, which each have a specific function. Your undergarment must produce and retain warmth. Your hoodie or sweatshirt keeps you warm and the salopettes protect you from the weather. All these layers should be breathable in order to evacuate humidity.
How can I stop snow from coming into my salopettes?
Our salopettes and trousers have elasticated gaiters which can be adjusted around the boots. If you fall or ski in fresh snow, the seal keeps the snow out.
How do I look after my product?
To optimise the performance and durability of your product, we recommend: Machine wash separately at 30°C. Synthetic cycle. Turn the product inside out. Use a small amount of detergent. No softener. We recommend you wring it by hand. Dry on a hanger in a warm, well-ventilated place. Do not dry clean. Do not place on a radiator. You can restore the water resistance of the outer fabric using a fabric waterproofing spray. Read the care label.
Why is the water-resistance value on the website different from the one printed inside the salopettes?
We designed our salopettes by choosing a technical membrane that ensures waterproofness of 15000 mm when you buy them. After each wash the membrane becomes less efficient, which is why we also test the product to guarantee optimal waterproofing even after 5 washes. This value of 8000 mm after 5 washes is printed inside the salopettes, so that the information remains true even in a few years when you sell your product.
Weight
UK 10- EU 36: 0.95 kg
UK 12 - EU 38: 0.95 kg
UK 14 - EU 40: 0.95 kg
UK 16 - EU 42: 0.95 kg
UK 18 - EU 44: 0.95 kg

Composition
100.00% Polyurethane (PU)
80.00% Polyamide, 20.00% Elasthane
Care instructions:
Wash inside out. Do not dry clean. Wash with zip closed. Do not use fabric softener. Wash with similar colors.
Washing instructions
Machine wash - 30° max - gentle
Stock advice
Store on a hanger and do not fold, as this can damage the fabric coating. Dry thoroughly before storing in a dry and well-ventilated place.
Legal notice
This product is designed for snowboarding (and skiing). You may exceed the technical capacities of this product if you use it for any other purpose. We strongly recommend wearing a helmet, back protector and protective shorts to enjoy your sport to the full.
Passionate snowboarders and skiers. Are you interested in becoming a tester? Contact us on our website!
Test Product
All Decathlon's Snowboarding products are tested in real conditions of use for which they were designed: in the snow, cold and in all the conditions encountered when snowboarding (and skiing). Our design teams, product managers, engineers and pattern makers ensure the product's design corresponds perfectly to its real-world use.
Durability
Components resists abrasion, tearing and traction force
Waterproof
15,000 mm membrane fully taped seams.
Freedom of movement
Regular fit for superior freedom of movement, even with protective shorts.
Warmth
Recycled PES faux-feather 60g/sqm wadding and Warmseat technology
Breathability
Breathable component & 180° mechanical ventilation between the legs (RET = 4.94)
Adjustable
Legs length adjustable, 360° zip to be able to go to toilet without undressing.
Pockets
3 pockets: 2 hands, 1 chest
Frequently bought together
Reviews by our Team Members