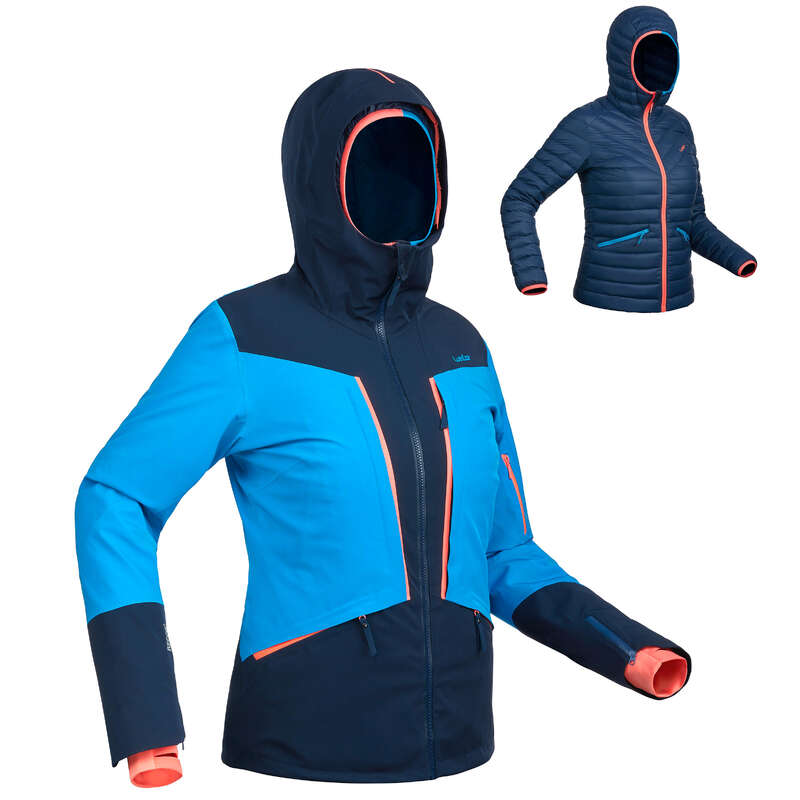 Evaluation of the entire life cycle of the product, its impact on the environment, including climate change and the depletion of natural resources.
Know more
WOMEN'S JACKET OR PANT ADVANCED SKIERS
WEDZE WOMEN'S 900 SKI-P TRAIL SKI JACKET - NAVY AND BLUE
WEDZE
Decathlon
This price includes a recycling fee for electrical equipment and batteries
DecathlonDeeeTaxMentionAfterPrice
/
Since
From 21/03/2019 To
* Sales from

to

Until end of stock
* From

21/03/2019

and limited stock
This price includes a recycling fee for electrical equipment and batteries
DecathlonDeeeTaxMentionAfterPrice
/
Since
* From To
* Sales from

to

Until end of stock
Designed for the most demanding skiers. We've injected a generous dose of elegance and performance into this ski jacket, ideal for downhill skiing. It's a three-in-one style with a removable padded liner jacket for great versatility and temperature control. Each layer is warm, waterproof and well ventilated.
Really durable
Lots of pockets
Complete with a Recco system to make sure you're found
Evaluation of the entire life cycle of the product, its impact on the environment, including climate change and the depletion of natural resources.
Know more
Warmth
Removable down liner jacket to perfectly adapt to weather conditions.
Waterproof
Highly waterproof, 10,000 mm membrane, waterproof seams and removable hood.
Breathability
Underarm ventilation zips to improve breathability.
Pockets
7 secure pockets, including 1 inside pocket and mesh pocket for skiing goggles.
Ease of use
Stretch snow skirt, audio output, Recco system and goggle wipes.
Durability
Durable component and overstitched seams. Excellent stability during washing.
How can I be sure my jacket will give me proper protection in bad weather?
The 900 jacket was developed with a component and a sturdy assembly that prevents water from seeping in and limits wind chill to help you better cope with bad weather (rain, snow, wind, etc.). To check that it is waterproof, this jacket was placed in a special shower reproducing the conditions a skier has to cope with on the slopes. We tested this product's waterproofing by skiing in different weather conditions for several days.
What's the point of having a water-repellent jacket?
Water repellent fabric allows water to run off its surface without being absorbed. The 900 jacket is equipped with water-repellent components that prolong its resistance to bad weather. This is an additional technical solution for staying dry for as long as possible on the ski slopes. This treatment must be renewed regularly, using products sold in our stores, to maintain their reliability.
Coated jacket: what are the advantages of coating?
The coating is a waterproofing material spread over the inner surface of a fabric. It prevents water from seeping into the garment but releases the water vapour produced by the body's physical activity. So you stay dry for greater comfort while practising your sport.
Water often seeps in through the seams. Does my jacket have taped seams?
In addition to the waterproof property of the jacket, we have enhanced the waterproofing of the taped seams. These are adhesive waterproof strips attached behind the seams inside the garment. These waterproof seams are on the entire jacket. It's a major advantage for an effective waterproof guarantee.
How will my ski jacket keep me warm?
Recognised as must-haves for their insulation properties, the down and feathers in the removable liner jacket offer an unparalleled warmth-to-weight ratio. A feather and down filling is highly compressible, light and warm, for a lightweight yet very insulating product.
What is a membrane? What is it for?
The membrane is a very thin component applied to the inner surface of the outer fabric. It is hydrophilic and blocks the water coming from the exterior while evacuating perspiration produced by the body within. The membrane is essential when it comes to staying warm and dry.
What is a breathable jacket?
It is a product that releases water vapour produced by the body during exercise, thus keeping you dry. To see if a fabric is breathable, we measure its resistance to evaporative heat (RET) in a standardised ISO 11092 test. The lower the RET, the more breathable the fabric. Wed'ze uses materials and technically designed solutions (zips, ventilation, mesh) that help prevent condensation inside the garment. RET of the 900 jacket < 12.
How should I dress to avoid feeling cold on the slopes?
To keep warm and dry, use the 3-breathable-layers rule: 1 ski undergarment and 1 under-jacket to retain the heat, 1 ski jacket to protect you from bad weather.
How can I prevent snow from getting in when I fall?
The snow skirt is a protection system at waist level that closes with press studs at the bottom of the ski or snowboard jacket. It prevents snow and air from entering when on the slopes, especially in the event of a fall.
Where can I put my ski pass when taking ski lifts?
You no longer need to take out your ski pass! Your sleeve has a ski pass pocket, allowing you to access the lifts quickly.
A score to compare the environmental impact of products
The product's environmental impact is calculated over its entire life cycle using various indicators. An overall score from A to E is given to help you easily identify the most eco-friendly products by comparing products of the same type (T-shirts, trousers, backpacks, etc.) Decathlon is a willing participant in this environmental initiative. For more information: http://sustainability.decathlon.com/
Composition
15.00% Grey Duck Feather, 85.00% Grey Duck Down
87.00% Polyester, 13.00% Elasthane
Care instructions:
Wash inside out. Wash with zip closed. Wash alone. Wash separately. Short spin. Wash care specific for down products.
Washing instructions
Machine wash - 30° max - gentle
Stock advice
Preferably put on a hanger and do not fold as this can damage the fabric coating. Dry thoroughly before storing in a dry and well-ventilated place.
12 Decathlon clients took part in the product testing process during field tests conducted at Tignes as part of the final product development phase. Interested in becoming a tester? Contact us at our wedze.com web site!
Test Product
All Wed'ze products are designed and developed in the Mont Blanc Valley. They are then tested under the same conditions as you would experience in real-life use (snow, cold, powder snow, etc.) The design teams ensure that the programme for which the product is designed and developed corresponds perfectly to its use in the field.
Reviews by our Team Members