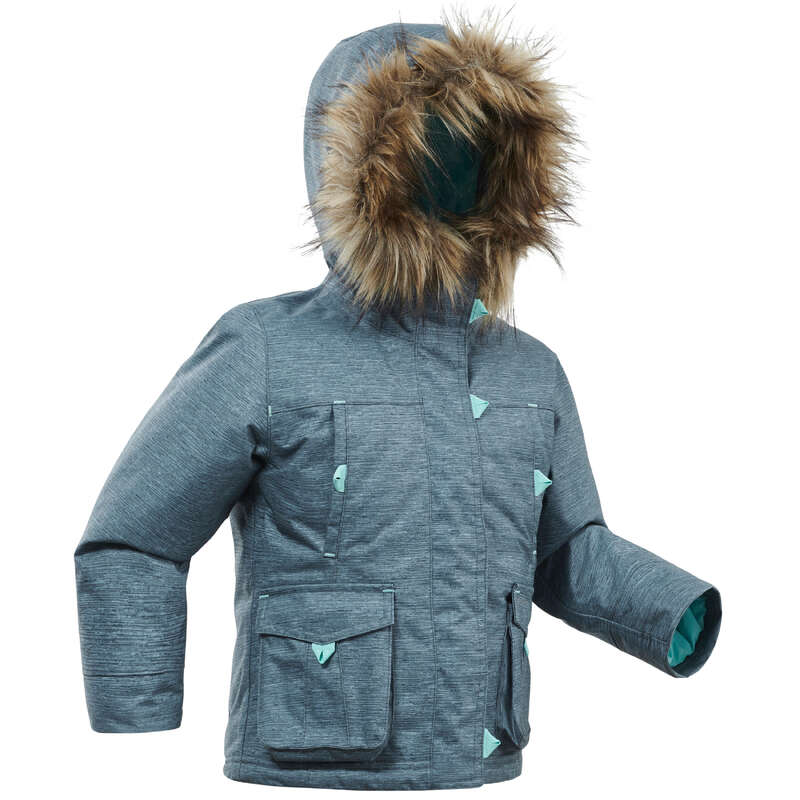 Evaluation of the entire life cycle of the product, its impact on the environment, including climate change and the depletion of natural resources.
Know more
GIRL SNOW HIKING JACKETS & WARM PANTS
QUECHUA SH500 X-Warm Girl's Waterproof Parka Jacket - Grey
QUECHUA
User rating
There's no review yet for this size
Decathlon
This price includes a recycling fee for electrical equipment and batteries
DecathlonDeeeTaxMentionAfterPrice
/
Since
From 14/02/2020 To
* Sales from

to

Until end of stock
* From

14/02/2020

and limited stock
This price includes a recycling fee for electrical equipment and batteries
DecathlonDeeeTaxMentionAfterPrice
/
Since
* From To
* Sales from

to

Until end of stock
Our engineers designed this extreme-cold jacket for children hiking regularly in all snow and wind conditions. It's very warm thanks to its "ball fibre" wadding, based on the same principle as natural down while also offering the benefits of a synthetic material. Add a waterproof coating and fluffy trim on the hood and you've got a cover-up you and your mini adventurer can agree on.
Two layers of wadding for extra warmth
Waterproof with sealed seams
Lots of pockets for their things
Evaluation of the entire life cycle of the product, its impact on the environment, including climate change and the depletion of natural resources.
Know more
Can I be sure that my jacket is warm enough for my winter hikes?
This jacket includes a double "ball-fibre" wadding filling is an interesting alternative to feathers:
- like feather, it is composed of many fibres with a high capacity to trap air thus insulating from the cold
- it has good thermal insulation capacity even when wet -
it is easy care: machine washable and can be tumble dried.
How does my jacket protect me from outdoor conditions?
Your jacket is designed with a waterproof outer component that keeps out water and wind. In the winter, to stay warm, you must also protect your extremities (head, hands, feet). The warm and waterproof attached hood with fur, ribbed cuffs and high collar and central zip with wind-proof protection tab keep the cold out. This jacket has 4 pockets including 2 soft and warm ones that protect your hands from the cold
How to dress properly for snow hiking?
To dress properly in winter, whatever your activity, we recommend using the 3-layer principle:
layer 1: The high-tech base layer transfers moisture away from the body to keep your skin dry.
layer 2: The second layer (fleece, sweater) provides warmth and transfers moisture outwards.
layer 3: The jacket protects from the outdoor conditions: rain, snow, wind.
The whole outfit must be breathable in order to eliminate moisture.
How can I be sure that my jacket is 100% waterproof?
We designed your jacket with an outer fabric that has been coated to make it waterproof. We measure a fabric's resistance to a column of water expressed in mm (based on the ISO 811 standard). The higher the water pressure, the more waterproof the fabric. A component with a waterproof rating of 2000 mm can therefore withstand the pressure exerted by a 2000 mm column of water (Schmerber). Validated in a shower test under 60L/sqm/h of water, which is roughly equivalent to a two-hour shower.
Water often gets in through the seams. Does my jacket have taped seams?
Your jacket is waterproof thanks to the fully taped seams. Waterproof tape is added to the seams inside the garment to make them watertight so that water cannot enter through the more vulnerable areas.
We validated the waterproofing with a shower test specially designed to replicate the conditions of a two-hour shower. We also wore it in the field in all weather conditions to make sure that it is suited to your activities.
Windproof :
The fabric is rendered waterproof, and therefore windproof, by applying a coating or membrane to the inner surface. Indeed, the properties of a waterproof fabric mean that it can also be certified as windproof. It is very important to protect yourself from the wind, when moving or stationary, because of the wind's powerful chilling effect.
How to preserve the technical qualities of my jacket?
The water-repellent property of a fabric is its ability to make water run off its surface without absorbing it. In this way, the fabric does not soak up water & therefore remains lightweight, breathable & warm. The water-repellent property is obtained by applying a treatment to outer surface of fabric. This treatment needs to be renewed during the lifetime of the garment (we recommend with each wash). Products (spray or liquid) designed specifically for this purpose are available in our stores.
Will my jacket withstand regular use over the long-term?
To ensure the durability of our products, we perform tests on the selected components: resistance to rubbing and abrasion, colour fastness, resistance to repeated washing. All these tests were conducted on the component of this jacket.
How does my product warranty work?
This product is guaranteed for 2 years from the date shown on the sales receipt. A product covered by the warranty will be repaired or exchanged free of charge. The warranty covers product defects, excluding those resulting from normal wear and tear and improper use.
SCORE FOR COMPARING THE ENVIRONMENTAL IMPACT OF THE PRODUCTS
The product's environmental impact is calculated over its entire life cycle using different indicators. A score from A to E is given to help you easily identify the more eco-friendly products by comparing products of the same type. Decathlon is committed to this approach. Find all our sustainable initiatives at http://developpement-durable.decathlon.com/
Weight
2 Years: 0.6 kg
3 Years: 0.6 kg
4 Years: 0.6 kg
5 Years: 0.6 kg
6 Years: 0.6 kg
89-95cm 2-3A: 0.6 kg
96-102cm 3-4Y: 0.6 kg
103-112cm 4-5Y: 0.6 kg
113-122cm 5-6Y: 0.6 kg

Composition
62.00% Polyester (PES), 05.00% Elasthane, 33.00% Cotton
10.00% Polyester (PES), 90.00% Acrylic (PAN)
100.00% Polyurethane (PU)
Care instructions:
Wash before first use. Do not dry clean. Wash with zip closed. Do not use fabric softener.
Washing instructions
Machine wash - 30° max - normal
Stock advice
Dry this jacket thoroughly before storing it in a dry place on a hanger so that the fabric does not get damaged by creases.
Test Product
Our design team is based at the foot of Mont-Blanc, in Haute-Savoie (France). All year round, we create and develop attractive, simple and technically advanced products. These are then tested in the field, as we remain convinced that only through rigorous testing under real world conditions, like the ones you will be using them in, can we continue to provide you with better products than ever.
Warmth
2 wadding filling thickness for perfect thermal insulation.
Waterproof
Waterproof jacket, sealed main seams (2000 Schmerbers).
Windproof
Coating applied to the fabric makes it waterproof and therefore windproof
Protection from the weather
Adjustable hood with fur, storm cuffs, rip-tab flap
Reviews by our Team Members