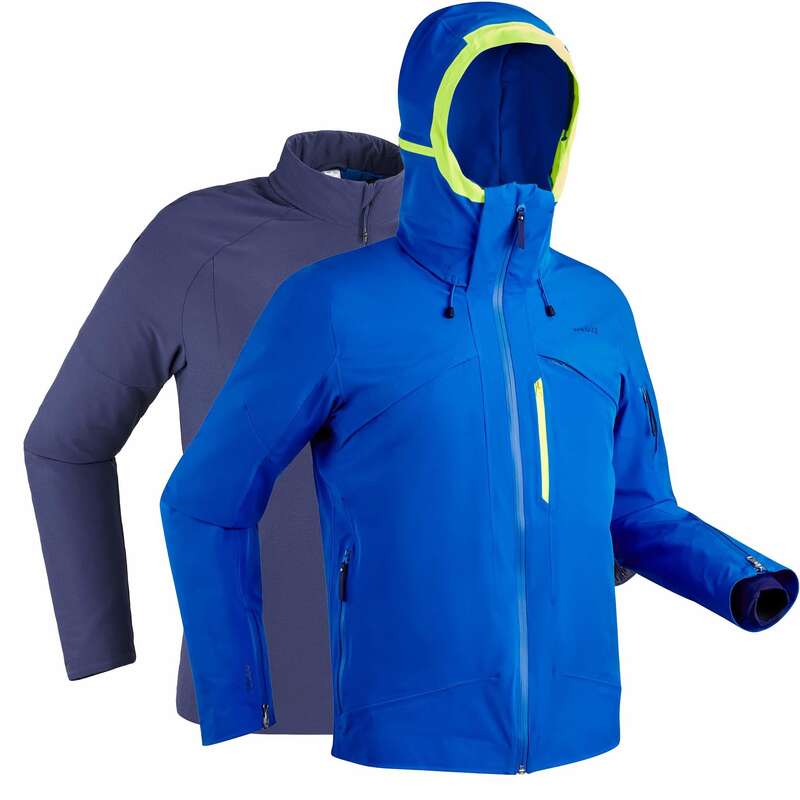 Evaluation of the entire life cycle of the product, its impact on the environment, including climate change and the depletion of natural resources.
Know more
MEN'S JACKETS OR PANTS ADVANCED SKIERS
WEDZE MEN'S DOWNHILL SKI JACKET 980 - BLUE
WEDZE
Decathlon
This price includes a recycling fee for electrical equipment and batteries
DecathlonDeeeTaxMentionAfterPrice
/
Since
From To
* Sales from

to

Until end of stock
This price includes a recycling fee for electrical equipment and batteries
DecathlonDeeeTaxMentionAfterPrice
/
Since
* From To
* Sales from

to

Until end of stock
Looking for performance in downhill skiing? This 100% stretch jacket provides optimal freedom of movement for more precision in your approach.
In addition to its stretch, this 3-in-1 jacket (jacket + inner jacket) offers good thermal regulation. Its taped seams/zips and membrane also provide excellent water resistance.

"Smart and sporty looks at a reasonable price." telegraph.co.uk (January 2020)
Evaluation of the entire life cycle of the product, its impact on the environment, including climate change and the depletion of natural resources.
Know more
What type of padding is used to provide warmth?
To make this jacket fully elasticated, we also used stretch wadding that doesn't tear. (60g/sqm). Because wadding that tears will create a "cold point" on this area.
The same wadding is used in the inner jacket. We didn't incorporate it into chest section so that fresh air can pass through when the zip vents are open. The same applies to the back where we prioritised moisture wicking away from the body.
Aside from the padding, which of the components provide warmth?
In addition to the padding of your jacket, the cuffs, the snow skirt, the waterproof zips, the high neck and the adjustable hood help keep the warm air inside and prevent cold air getting in.
What is a membrane and what's it for?
The membrane is a very thin component applied to the inner surface of the outer fabric. This hydrophilic component prevents water from seeping in while wicking away the perspiration produced by the body. The membrane is unbeatable when it comes to staying warm and dry.
How is the waterproofness of the jacket measured?
We measure a fabric's resistance to a column of water expressed in mm (based on the ISO 811 standard). The higher the pressure, the more waterproof the fabric. A component with a water resistance of 12,000mm therefore withstands the pressure exerted by 12,000mm of water.
Which of the jacket's features offer protection from bad weather?
The 980 jacket was rigorously developed and assembled to stop water getting in and to prevent wind chill, so you can brave bad weather on the slopes (rain, snow, wind, etc.). To check its water-resistance, this jacket was placed under a special shower, to reproduce the conditions faced by a skier. We have checked the waterproofness of this product in use in various weather conditions over several days.
What is the purpose of your jacket's water-repellent feature?
A fabric is water-repellent when it allows water to slide over its surface without it seeping in. This jacket features water-repellent components that extend its weather resistance. The fabric is made water-repellent by treating its outer surface. However, this property may deteriorate with use.
How to restore the water repellency of your jacket?
Remember that water repellency can be restored. To do this, put the jacket in the dryer on a synthetics programme for 10 to 15 minutes.
You can also use a waterproof spray (sold in our stores): spray the product evenly over the entire garment, then allow to dry for 10 to 12 hours).
What is a "breathable" jacket?
It's a garment that is capable of wicking away the water vapour produced by your body when exercising. To see if a fabric is breathable, we measure its resistance to evaporative heat (RET) in a standardised ISO 11092 test. The lower the RET, the more breathable the fabric. The 980 jacket has an RET of 8. However, it is the technical solutions (zips, vents, mesh) that Wedze uses that limit the condensation inside the garment and maximise breathability.
Easy tracking
The 980 jacket is fitted with a Recco system at the back of the neck for easy searching in an avalanche.
What is the fit of the 980 jacket?
Slim fit. The jacket and inner jacket are slim fitting to enhance aerodynamics. But because they're completely stretchy, they still adapt to different body shapes.
How should you dress to stay warm on the slopes?
To make sure you stay warm and dry, we recommend using the 3-technical-layer rule: layer 1 or second skin, to stay dry. Layer 2 or the insulating layer, to keep the heat in. Layer 3 or the protective layer, to protect against bad weather.
How can you stop snow from getting in when you fall?
The snow skirt is a protection system at waist level that closes with press studs at the bottom of the ski or snowboard jacket. The snow skirt (which is automatic), as well as the adjustable cuffs, prevent the entry of snow and draughts during practice and especially in case of a fall.
A score for comparing products' environmental impact
The product's environmental footprint is calculated over its entire lifespan using various indicators. An overall score from A to E is given to help you easily identify the most eco-friendly products by comparing products of the same type (T-shirts, trousers, backpacks, etc.)
Decathlon actively promotes this environmental rating system.
For more information: http://sustainability.decathlon.com/
Composition
87.00% Polyamide, 13.00% Elasthane
28.00% Polyester (PES), 60.00% Polyamide, 12.00% Elasthane
91.00% Polyester (PES), 09.00% Elasthane
87.00% Polyester (PES), 13.00% Elasthane
100.00% Polyurethane (PU)
76.00% Polyamide, 24.00% Elasthane
Care instructions:
Wash inside out. Wash with zip closed. Wash separately. Do not use fabric softener.
Washing instructions
Machine wash - 30° max - gentle
Stock advice
Store on a hanger and do not fold, as this can damage the fabric's water-resistance. Dry thoroughly before storing in a dry and well-ventilated place.
Test Product
All Wedze products are designed and developed in the Mont Blanc Valley. They are then tested under the same conditions as you would experience in real-life use (snow, cold, powder snow, etc.). The design teams make sure that the programme for which the product is designed and developed corresponds perfectly to its use in the field.
Waterproof
EXCELLENT: 12,000mm membrane, seams and main zips sealed.
Breathability
Breathable fabric, 2 chest ventilation zips, back vent.
Warmth
Jacket and liner with insulation in recycled stretch wadding.
Freedom of movement
Jacket and liner: fabric + wadding + 4-way stretch lining.
Water repellent
Water-repellent outer fabric that does not become saturated with water.
Adjustable
Hood, cuffs and snow skirt adjustment.
Pockets
7 pockets:2 hand pockets, 1 ski pass pkt, 1 inner, 1 chest pocket, 2 nets.
User comfort
A high, warm collar for guaranteed protection and comfort.
Reviews by our Team Members