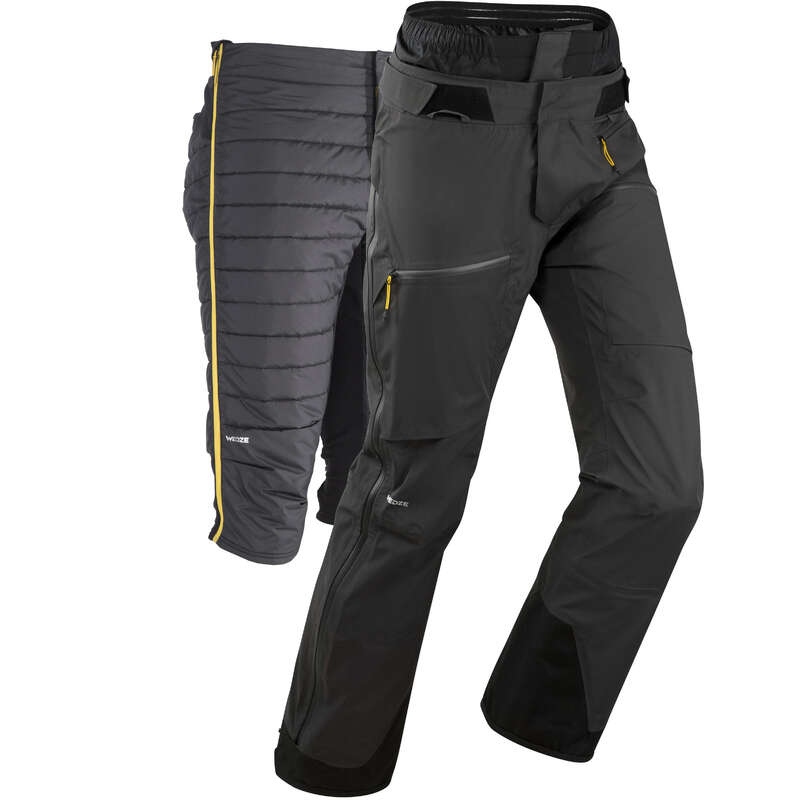 Evaluation of the entire life cycle of the product, its impact on the environment, including climate change and the depletion of natural resources.
Know more
MAN'S FREERIDE SKIING CLOTHING
WEDZE Men's Freeride and Freerando Ski Trousers FR 900 - Grey
WEDZE
Decathlon
This price includes a recycling fee for electrical equipment and batteries
DecathlonDeeeTaxMentionAfterPrice
/
Since
From 09/02/2020 To
* Sales from

to

Until end of stock
* From

09/02/2020

and limited stock
This price includes a recycling fee for electrical equipment and batteries
DecathlonDeeeTaxMentionAfterPrice
/
Since
* From To
* Sales from

to

Until end of stock
Our designers have developed these trousers for advanced freeriders and freerando skiers seeking modular trousers for skiing all season long.
You ski all season no matter what the temperature? These trousers have padded liner shorts for managing the level of warmth. They're also breathable and waterproof so you stay dry.
Evaluation of the entire life cycle of the product, its impact on the environment, including climate change and the depletion of natural resources.
Know more
Waterproof
Very waterproof (membrane with 15000 mm rating). Fully taped seams.
Breathability
Membrane that facilitates moisture wicking with an RET of 12. Ventilation zips.
Freedom of movement
Its cut with preformed knees gives you good freedom of movement.
Warmth
Freeride 900 removable liner-shorts for good insulation in cold weather.
Durability
Durable component and reinforced hems – essential for Freeride use.
Pockets
1 hand pocket, 2 thigh pockets, all closed with waterproof zips.
Ease of use
Removable snow skirt belt.
Adjustable
Adjustable elasticated belt with hook and loop strip.
Additional features
Reinforced edges made of an ultra-durable material
Removable snow skirt.
The jacket and trousers can be linked to provide better coverage.
Large zipped air vent at the side for easily removing the shorts.
Gaiters
Gaiters that provide easy access to the buckles at the top of the boots. These are used to optimise the movement of boots with a ski/walk function by opening the upper buckles. Particularly useful for those who walk or use ski skins to seek out a great ski slope.
What to wear under your ski pants?
The first layer as ski base-layer leggings: breathable.
The second layer, e.g. padded shorts: insulation.
The third layer, the ski trousers: protection against the rain, snow and wind.
The first layer
It enables you to remain dry by wicking away perspiration from the skin towards the other layers.Ideally, close fitting breathable liner trousers that stop just above the ski boots.
The second layer
To keep you warm, you will need a second layer that insulates you from the cold. That is what sweaters, fleeces and down jackets are for.Integrated down jacket:
115g/m² recycled wadding for good insulation.
Ergonomic style. Fleece insert for warmth and freedom of movement.
Two zips for removing the padded shorts without having to remove the trousers.
The third layer
Protection from the elements (snow, rain and wind) by keeping them out (while letting perspiration out to not be wet on the inside"). Ideally, it will be waterproof AND breathable. The third layer can also insulate, for example trousers or lined jackets, and therefore complement the second layer.
How can I prevent snow from getting in when I fall?
The snow skirt belt is a protective system worn around the waist. It prevents snow and air from entering during practice, especially in the event of a fall.It can be fastened to the jacket using the 3 loops with a press stud.
How can I be sure my jacket is strong enough?
We know how much energy is expended during a day's skiing or snowboarding. That's why we take particular care in choosing all the elements that make up our products to guarantee the best possible protection.
Can I be sure my jacket will protect me well in bad weather?
To tackle bad weather (rain, snow, wind, etc.), the FREERIDE 900 trousers were developed with a sophisticated component and assembly that prevents water from getting in and reduces wind chill. To check that they are efficiently waterproof and watertight, these trousers have been placed in a special shower reproducing the conditions a skier may have to cope with.Finally, we wore the product for several days' skiing under all conditions to validate its waterproof rating
What's the point of having water-repellent trousers?
Water-repellent fabric allows water to run off its surface without seeping in. This prevents the fabric from swelling, and keeps it lightweight, breathable and warm. The water repellency is obtained by a treatment applied on the outer surface of the fabric. This treatment needs to be reactivated during the lifetime of the garment when it is washed. All Wedze jackets have a water repellent treatment.
Tutorial on how to wash your waterproof garment
With each wash, we recommend that you follow the set protocol to preserve all the technical features of your garment.
Link: https://youtu.be/rh4GLwALgBM
After three washes, restore the water repellent properties with a waterproof spray or wash-in product.
What is a membrane or coated component?
The coating is akin to a paint applied inside the fabric that makes the component waterproof while remaining breathable. It is often less expensive than a membrane and requires a liner to protect it. The membrane is a kind of very thin plastic film (polyurethane) that makes the component waterproof while remaining breathable. It has the advantage of being softer, lighter, more durable and often more breathable than coating.
Water often gets in through the seams. Do my trousers have taped seams?
As well as the waterproof material, we use sealed seams to make FREERIDE 900 trousers more waterproof. These are waterproof adhesive strips taped to the inside seams of the garment to make it perfectly watertight.
Waterproofness/Shower test
This garment has been validated in a shower test under 450 L/m²/hour of water for 4 hours. This test replicates the conditions of a tropical typhoon.
How do my ski trousers keep me warm?
We use removable liner-shorts to keep you warm. The wadding is a synthetic material with a polyester base that stores a greater or lesser quantity of air depending on the size of fibres used. There are standard, high-tech and silicone coated wadding materials that each provide different properties (warmth, lightness, elasticity, etc.)
In the spring and autumn, it may be preferable to wear simple breathable liner shorts rather than padded shorts so that you don't feel too hot.
What are "breathable" trousers?
It's the ski trousers' ability to let moisture produced during exercise escape to the outside, in order to keep you dry. To find out if a fabric is breathable, its evaporative resistance, called RET (standardised test ISO 11092), is measured. The lower the RET, the more breathable the fabric. Wedze uses technical components and solutions (zips, air vents, mesh) that prevent condensation inside the garment.
What is the RECCO system®?
All our Freeride jackets and trousers are equipped with the RECCO system®.
With the RECCO® technology, you can be located in the event of an avalanche.Someone who is equipped with RECCO® reflectors and is buried in the snow can be quickly and accurately located by the emergency services using the RECCO® tracker.RECCO reflectors are not a substitute for an avalanche beacon. The RECCO® technology works as a complementary measure, increasing the chances of being found in time.
Composition
93.00% Polyester, 07.00% Elasthane
80.00% Polyamide, 20.00% Elasthane
Care instructions:
Wash inside out. Wash with zip closed. Wash alone. Do not use fabric softener.
Washing instructions
Machine wash - 30° max - normal
Stock advice
Always make sure that this waterproof protective clothing is completely dry before storing it.
Test Product
Our team of designers is based at the foot of the Mont-Blanc, near many ski resorts in Haute-Savoie (France). Throughout the year, we imagine and develop simple and technical products. We then test them ruthlessly in the field because we are convinced that only the real situation as you live it can allow us to progress continuously.
Reviews by our Team Members