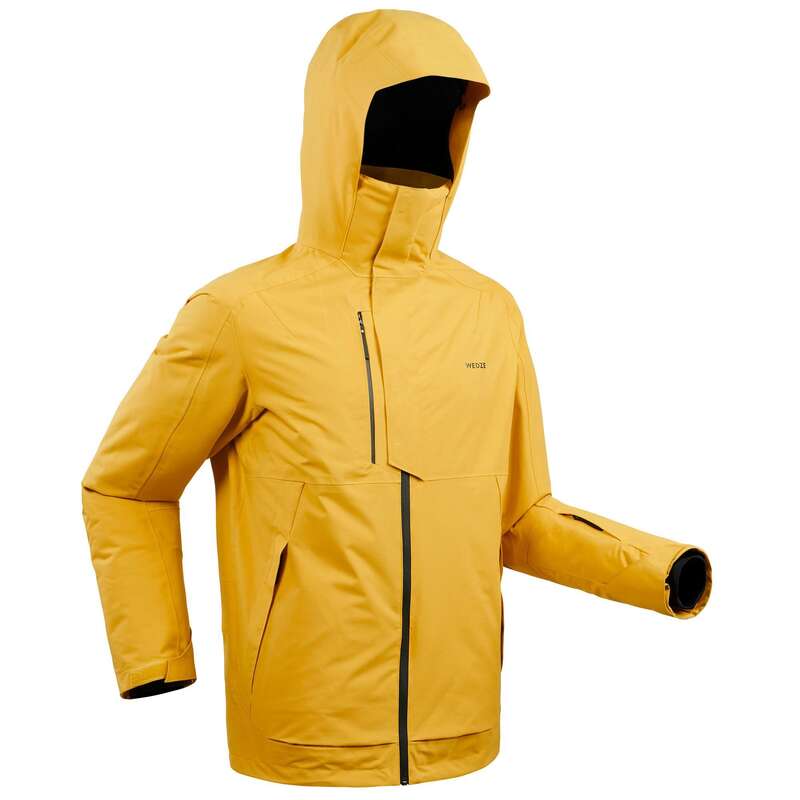 Evaluation of the entire life cycle of the product, its impact on the environment, including climate change and the depletion of natural resources.
Know more
MAN'S FREERIDE SKIING CLOTHING
WEDZE Men's Freeriding SKI JACKET FR100 - Ochre
WEDZE
Product not available online
Decathlon
This price includes a recycling fee for electrical equipment and batteries
DecathlonDeeeTaxMentionAfterPrice
/
Since
From 19/02/2020 To
* Sales from

to

Until end of stock
* From

19/02/2020

and limited stock
This price includes a recycling fee for electrical equipment and batteries
DecathlonDeeeTaxMentionAfterPrice
/
Since
* From To
* Sales from

to

Until end of stock
Our designers developed this jacket for beginner Freeriders. Discover Freeride while keeping warm and dry in all conditions.
Discover Freeride with confidence! Jacket with 100% sealed seams, ventilation zips, wadding (150g body 60g arms) all this to keep you warm and dry !!!
Evaluation of the entire life cycle of the product, its impact on the environment, including climate change and the depletion of natural resources.
Know more
Waterproof
Coated fabric with wtpf rating 5,000mm, seams 100% sealed, wtpf zip/under flap.
Breathability
Breathable RET12 coating, vents help wick away perspiration
Freedom of movement
Loose cut helps you move freely. Hood goes over helmet.
Warmth
150g/sqm wadding (bust) 60g (arm) protects from the cold, vents regulate.
Pockets
5 pockets: 2 hand, 2 chest (1 inside, 1 outside) 1 ski pass pocket on the arm.
Easy spotting
Recco® system to facilitate the search in the event of an avalanche.
Anatomic design
3D hood adjustment that can be put over helmet and which follows your movements.
Additional features
Hood over helmet designed to offer maximum protection ensuring freedom of movement.
Adjustable to fit 3 sizes in a single movement, using a single tightening toggle located behind the head.
Tightening on the wrist and cuff to prevent air and snow from getting in.
Tightening at the bottom of the jacket and snow skirt to also prevent air and snow from getting in.
Waterproofness/Shower test
This garment has been validated in a shower test under 60 L of water / sqm / hour for 2 hours. This test reproduces the conditions of a rain shower in the mountains.
What is the purpose of water repellency?
Water-repellent fabric allows water to run off its surface without seeping in. This prevents the fabric from becoming waterlogged and remains light, breathable and warm. The water repellent property is obtained by applying a treatment to the outer surface of the fabric. This treatment needs to be restored during the lifetime of the garment (every 3 washes). All the Wedze jackets have received a water repellent treatment.
What is a membrane or coated component?
The coating is like paint applied to the inside of the fabric making the component waterproof while remaining breathable. It is often less costly than a membrane and requires a lining for protection. The membrane is like a very fine plastic film (polyurethane) that makes the component waterproof while keeping it breathable. It has the advantage of being more flexible, lighter, more durable and often more breathable than a coating.
Tutorial on washing your waterproof garment
With each wash, we recommend that you follow this protocol to preserve all the technical features of your garment.
Link: https://youtu.be/rh4GLwALgBM
After three washes, restore the water repellent properties with a waterproof spray or wash-in product.
What is the breathability of a component?
To find out whether a fabric is breathable, we test its evaporative resistance or RET (based on the ISO 11092 standard). The lower the fabric's resistance, the more water vapour generated by physical activity can escape and the higher the fabric's breathability. For example: RET < 9 = extremely breathable fabric / 9 < RET < 12 = very breathable fabric / 12 < RET < 20 = breathable fabric / RET > 20 = little or no breathability.
How is the waterproofness of the fabric measured?
The resistance of a fabric to water pressure is expressed in mm of a water column (test based on the ISO 811 standard). The higher the water pressure, the more waterproof the fabric. For example, a fabric with a waterproof rating of 5000 mm is therefore resistant to the pressure exerted by a 5000 mm column of water
How do we make a garment breathable?
In addition to the breathability of the fabrics used, we employ technical solutions (zips, vents, mesh) improving the overall ventilation of our jackets and trousers designed for Freeride ski use. These ventilation systems regulate the temperature inside the garment while also helping to eliminate the perspiration generated by the body during physical activity.
Product environmental impact comparison score
The product's environmental impact is calculated over its entire lifespan, using various indicators. An overall score from A to E is given to help you easily identify the most eco-friendly products by comparing products of the same type (T-shirts, trousers, backpacks etc.) .Decathlon is committed to displaying the environmental information of its products. For more information: http://sustainability.decathlon.com/
What is the RECCO system®?
All our Freeride jackets and trousers are equipped with the RECCO system®.
With RECCO® technology, you can be located in the event of an avalanche. Someone who is equipped with RECCO® reflectors and is buried in the snow can be quickly and accurately located by the emergency services using the RECCO® tracker. RECCO® reflectors are not a substitute for an avalanche beacon. The RECCO® technology works as a complementary measure, increasing the chances of being found in time.
Composition
80.00% Polyamide, 20.00% Elasthane
76.00% Polyamide, 24.00% Elasthane
100.00% Polyurethane (PU)
Care instructions:
Wash inside out. Wash with zip closed. Wash alone. Do not use fabric softener. Wash as delicate.
Washing instructions
Machine wash - 30° max - normal
Stock advice
Dry this waterproof protective garment thoroughly before storing it.
Test Product
Our team of designers is based at the foot of the Mont-Blanc, near many ski resorts in Haute-Savoie (France). All year round, we create and develop products that are simple and technologically advanced. These are then ruthlessly tested in the field because we believe that the only way to continually improve is to test the products under the real-life conditions that you will experience.
REVIEWS BY OUR TEAM MEMBERS