How to Ski Tour: Ski Touring for Beginners?
Get ready for an epic backcountry adventure with our guide on how to get started with ski touring. Find more insider skiing tips and tricks.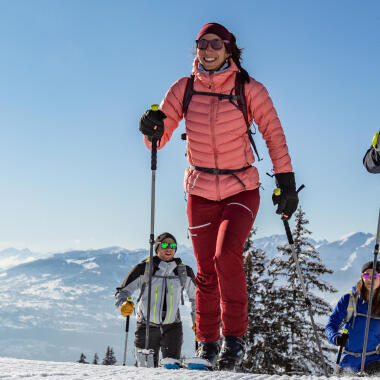 Backcountry skiing is an unforgettable experience. After all, the backcountry is the only place where you'll find waist-deep powder and peacefully quiet slopes. Once you're comfortable with off-piste skiing, you may want to venture further afield and explore uncharted territory with ski touring.

Also known as AT skiing, ski mountaineering or randomness, ski touring gives you true freedom in the backcountry as you're not limited by lift access. With hundreds of miles of terrain at your disposal, you can ski for days without seeing another group and discover the beauty of a snow-covered world.
What Is Ski Touring?
Ski touring is a cross between Alpine downhill and cross-country skiing. Like cross-country skiing, you're not reliant on chairlifts as you can walk (ski) up any mountain. Skins attach to the bottom of your skis that stop you from sliding backwards and provide enough traction to turn your skis into hiking machines. To help with walking, the heel of your boot lifts and they are typically more flexible than downhill ski boots.

However, once you get to the top, it's back to downhill skiing. Your heel clips in, your skins come off and you're ready to make stellar 'S' shaped turns as you go down the mountain.

Ski touring almost always happens in the backcountry and can extend over a longer period. Many ski tourers will spend the night on the mountain, so they're ready to hit the slopes at sunrise.
Benefits Of Ski Touring
Ski touring combines the benefits of hiking with downhill skiing. It's an all-body workout as you don't get to rest on a chairlift, but have to hike up and ski down the mountain. Not only will you build core muscle groups, but you'll also gain better stamina from this cardio workout. Plus, spending time in nature surrounded by pine trees is proven to enhance your mental health and promote relaxation.

Ski touring also allows you to take backcountry skiing to the next level. You can go further from the groomed slopes and explore uncharted territory, away from the crowds. The sky's the limit!
How To Ski Tour?
Before you take up ski touring, you should have some experience in the backcountry. Backcountry skiers are advanced-level skiers as snowploughs don't work when you're navigating between trees. You'll also have enough confidence to handle emergencies like avalanches or injuries.

Ski touring requires more stamina than downhill backcountry skiing, so you should be healthy enough to be able to handle hiking. There are many different available routes, which makes ski touring accessible to almost anyone and you certainly don't need to be an ultra-marathon runner.

For first-timers, we recommend starting small and building yourself up to the week-long ski tours. A gentle route will allow you to get a feel for the equipment, so you know how to put on and take off your skins, adjust your boots, and so forth. It'll also allow you to build key muscle groups and enhance your stamina.

While ski touring is possible nearly everywhere, more and more ski resorts are starting to offer dedicated areas or slopes. You can learn more about designated areas with Decathlon's handy guide to French mountains.

No one should ever venture into the backcountry on their own. Hire a guide or partner up with a more experienced ski tourer for your first day. Skiing with someone that's been ski touring before will provide the perfect introduction to the sport and allow you to learn important techniques as well as safety methods.

When skiing the backcountry, you need to stay alert and read up on weather and avalanche alerts. You can find out more about backcountry safety here.
Getting Started With Ski Touring: Skinning Tips
With ski touring, skins attach to the bottom of your skis, so you have enough traction to hike uphill. Climbing uphill with a full pack and ski equipment can be exhausting. Thankfully, there are a few ways to make hiking uphill in your ski equipment easier and more enjoyable.

• Keep the surface of your skis flat and slide your skis across the ground rather than lift them. In this regard, ski touring uses a similar movement to cross-country skiing.
• Use your poles to stay balanced and push yourself uphill. For best results, hold your ski poles a bit higher than normal.
• Don't try to keep up with others, but hike up the slope at your own pace. This will help save your energy and prevent you from burning out.
• Make low track angles to keep some energy when climbing uphill
• Adjust your bindings (flatter -- middle -- higher) depending on the slope incline. Most of the time you'll probably hike in the mid-step as it provided a better grip for traversing lines.
Touring Skis
Touring skis are designed specifically for backcountry conditions. Most skis have notches at the tip and tail for attaching climbing skins and have lighter weight designs which makes hiking uphill much easier. However, their lightweight design often comes with some sacrifices like a low-threshold for remaining chatter-free on hard, icy snow and their bases and edges can be easily damaged.
Ski Touring Skins
You'll need a pair of skins for ski touring. Skins stick to the bottom of your skis and feature plush material (normally mohair or a synthetic/mohair blend) that grip the snow in one direction, making it possible for you to travel uphill without sliding backwards. Most skins have clips that attach at the tip and tail of the ski, so you don't need to buy special models.
Ski Touring Bindings
Ski touring bindings allow the heel to lift, similar to a cross-country ski binding, when skinning uphill and then lock down your heel, like a downhill ski binding, when it's time to ski down. Different ski touring bindings are available for different types of boots; for example, skiers with alpine touring boots with dimpled tech inserts will want to opt for lightweight tech bindings while those with traditional downhill boots should use frame-style bindings.
Ski Touring Boots
While you can use your normal downhill ski boots, they can be difficult and heavy to walk in. Touring ski boots have a walk mode so the cuff can pivot freely, which allows for more flexibility and comfort when skinning uphill. Most touring ski boots also feature lugged rubber soles and are made with a lightweight shell material. Sometimes, newer models, are designed for downhill performance as well so you can use them on and off-piste.


Ski Touring Poles
You'll need a pair of poles when skiing the backcountry. Ski touring poles are very similar to downhill poles but feature an adjustable or collapsible design. This design allows you to adapt the poles height to suit different terrains and fold them up for easy storage when resting.
Ski Touring Pack
When skiing the backcountry, it's a good idea to bring some extra supplies, like warm, dry layers, food and water. Some skiers go on long, multi-day ski tours and will need to bring winter camping equipment. To carry it all, you'll need a durable waterproof backpack.

Ski touring packs are designed to carry your skis, and often, have an external sleeve for quick access to your shovel and avalanche tools while offering enough room for all your supplies. You can also find ski touring backpacks with compartments for water bladder sleeves, extra attachments, etc. Some ski touring packs even have high-tech safety features like airbags in case of an avalanche.
Layered Clothing
As ski touring requires more energy than downhill skiing, you'll get a good sweaty workout. You'll want to dress in layers so you can take off a layer if you're feeling too warm. It's also important to avoid cotton clothing as cotton absorbs, rather than wicks away, moisture like sweat and becoming wet in the backcountry can be dangerous. You should also carry an extra layer in your backpack to make sure you stay warm and dry on your ski touring adventure.


Avalanche Gear
Anyone skiing the backcountry should carry avalanche gear -- it could save your life. You should have a transceiver so people can find you if you become buried in snow and a shovel and probe for finding avalanche victims. Your ski touring backpack should have an external sleeve for storing your shovel and probe for quick access. It's not enough to carry avalanche equipment -- you also need to know how to use it. After all, surviving an avalanche requires a speedy response. Learn more about freeriding safety in our recent blog article.