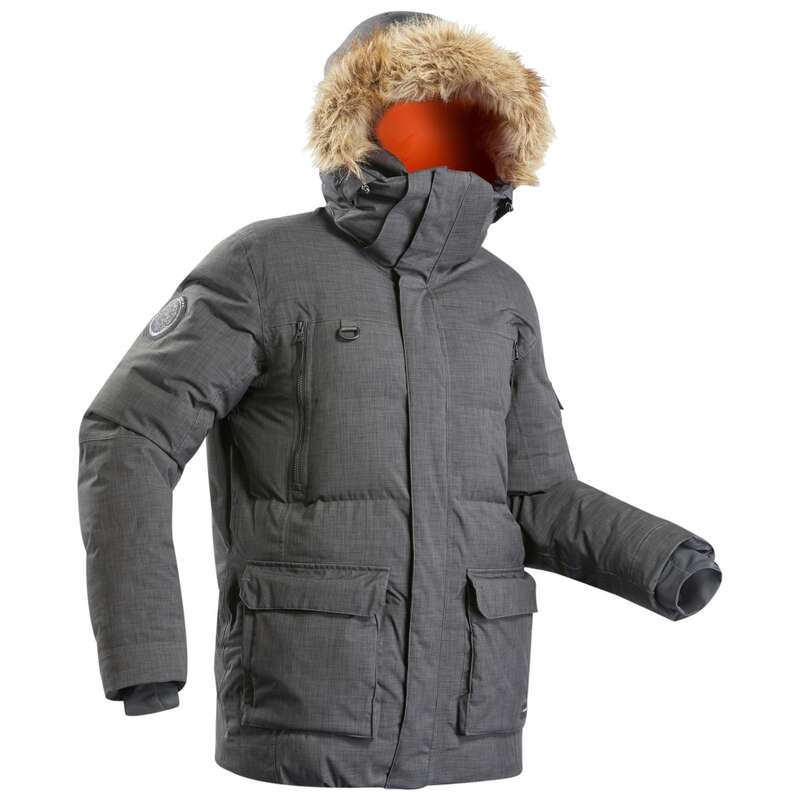 Evaluation of the entire life cycle of the product, its impact on the environment, including climate change and the depletion of natural resources.
Know more
ARCTIC TREKKING OUTFIT
FORCLAZ Arpenaz 1000 Parka Men's Waterproof Jacket - Black
FORCLAZ
Decathlon
This price includes a recycling fee for electrical equipment and batteries
DecathlonDeeeTaxMentionAfterPrice
/
Since
From To
* Sales from

to

Until end of stock
This price includes a recycling fee for electrical equipment and batteries
DecathlonDeeeTaxMentionAfterPrice
/
Since
* From To
* Sales from

to

Until end of stock
Designed for shielding yourself from even the most extreme winter conditions while on hikes or expeditions, this men's trekking jacket is filled with feathers and down, which is evenly distributed across the body through the quilted design. It has a storm hood and lycra cuffs to further enhance its water-tightness, and still manages to be breathable. This is a top-of-the-range jacket.
100% watertight design, suitable for temperatures down to -30°C
The down filling is evenly distributed via quilted panels for all-over warmth
Multiple lined and secure pockets
Evaluation of the entire life cycle of the product, its impact on the environment, including climate change and the depletion of natural resources.
Know more
Sizing information
Parka shape. Standard cut. This jacket is sized to be worn over a very warm second layer like a sleeveless down jacket or a high-tech quilted jacket.
Storm hood
Removable. Full-coverage storm hood that keeps you well protected. Down filling. Comes with a detachable faux fur edging. Height-adjustable with an elastic drawcord + toggles. Depth-adjustable with a strap + buckle system located at the back of the head. Sized to be worn together with a warm hat, like a beanie or trapper hat.
Pocket system
Outer: 2 warm hand pockets + 2 over-pockets under the flap with press-studs + 2 large chest pockets with watertight zips + 1 shoulder pocket under a flap.
Inside: 1 large zipped pocket including a secure mobile phone compartment + 4 large "quick access" mesh pockets (2 of which can be used to hold a bottle).
Jacket hem adjustment
Elasticated drawcord + toggles to keep cold draughts to a minimum.
Cuff adjustment
Integrated Lycra cuffs to avoid heat loss.
Closing system
Central two-way zip to remain comfortable when sitting or squatting.
Additional recommended products
Care products: waterproof spray or wash-in waterproof liquid. To restore the water repellent property of the fabric and optimise the performance of your garment throughout its lifetime. We recommend using these products with each wash.
Temperature rating evaluation
Ambient temperature for thermal neutrality: the user feels neither hot nor cold. Temperature rating, in accordance with the ISO 11079 standard, under the following conditions: Walking at 5 km/h with no wind, in cloudy conditions. Jacket worn together with: upper body: long-sleeved T-shirt + shirt + sleeveless down jacket / legs: tights + fleece base layer + trousers/head: Ushanka + hood / hands: under-gloves + gloves / feet: ski socks + snow boot.
Component waterproofing
The resistance of a fabric to water pressure is expressed in terms of the height in mm of a water column that can be supported by the fabric (test based on the ISO 811 standard). The higher the pressure, the more waterproof the fabric. Components with a 2000 mm rating can withstand the pressure of a 2000 mm column of water (which is equivalent to a rain shower lasting 2 hours).
Waterproofing of the garment
Technologies: this garment was validated in a shower test under 60 L/sqm/h of water for 2 hours. This test reproduces the average conditions of a rain shower in the mountains.
Component breathability
To find out whether a fabric is breathable, we test its evaporative resistance or RET (based on the ISO 11092 standard). The lower the fabric's resistance, the more water vapour generated by physical activity evaporates, and the higher the fabric's breathability. For example: RET < 9 = extremely breathable fabric / 920 = little or no breathability.
Water repellent property of the component
The water-repellency of a fabric is its ability to let the water slide off its surface, without absorbing it.In this way, the fabric does not soak up water and remains lightweight and warm.A fabric is made water repellent by applying a treatment to its outer surface.This treatment needs to be renewed during the lifetime of the garment (we recommend each wash). Water repellent treatment products are available in our stores. All Quechua waterproof jackets have received a water repellent treatment.
Quantity of feathers for each size
Here is the quantity of feathers on the waist for the parka. This is equivalent to 90% of the theoretical weight.
XS = 405 g / S = 496 g / M = 514 g / L = 547 g / XL = 558 g / XXL = 605 g / XXXL = 640 g
Feather origin
Our traceability system means we can guarantee the origin of the feathers, in compliance with our commitment to use responsibly sourced materials. Our suppliers are committed to using only feathers that come from ducks that are bred for their meat and which are plucked after slaughtering.
http://developpement-durable.decathlon.com/documents-et-rapports/documents/
A score for comparing the products' environmental impact
The product's environmental impact is calculated over its entire life cycle using various indicators.
An overall ABCDE rating is given to help you easily identify products with the best environmental performance by comparing and contrasting products of the same type (T-shirts, trousers, backpacks, etc.).
Decathlon actively promotes this environmental rating initiative.
For more information: http://sustainability.decathlon.com/
The benefits of a duck down and feather filling*
The down's long-lasting fill power gives it 3 important qualities for hiking:
- Thermal insulation thanks to the air trapped in the down and feathers
- Ultra-lightweight: to provide equal warmth, feathers are lighter than synthetic wadding. This saves even more weight in your backpack
- Ultra-compressible
Care instructions for jackets filled with down and feathers
The down jacket can be worn throughout the winter and will certainly need to be washed. Follow the instructions by clicking the link below:


http://www.quechua.com/wash-your-down-jacket
Composition
20.00% Grey Duck Feather, 80.00% Grey Duck Down
18.00% Polyester, 82.00% Acrylic
74.00% Polyester, 26.00% Elasthane
Care instructions:
Wash inside out. Remove synthetic fur lining before washing. Wash with zip closed. Do not use fabric softener. Wash care specific for down products.
Washing instructions
Machine wash - 30° max - normal
Stock advice
Store in a dry, ventilated place.
Test Product
To help you dress effectively, Forclaz in partnership with Decathlon Research, gives provides the temperature ratings for its "extreme cold" product lines. Tests are carried out in an environmental chamber to measure the thermal insulating properties of products on a dummy. These results are supplemented by physiological studies conducted by the Decathlon Research teams to assess the level of warmth/cold perceived by users in real-life use.
Waterproof
8000 mm-rated waterproof membrane. High-tech sealed compartments.
Warmth
75% down/25% feather filling (600g in size L). Storm hood and lycra cuffs
Breathability
Hydrophilic membrane (RET=12): wicks away perspiration.
Optimum temperature
Temperatures;
Temperature rating -25°C; Limit temperature -30°C
Flexibility
Removable hood and detachable faux fur edging.
Reviews by our Team Members