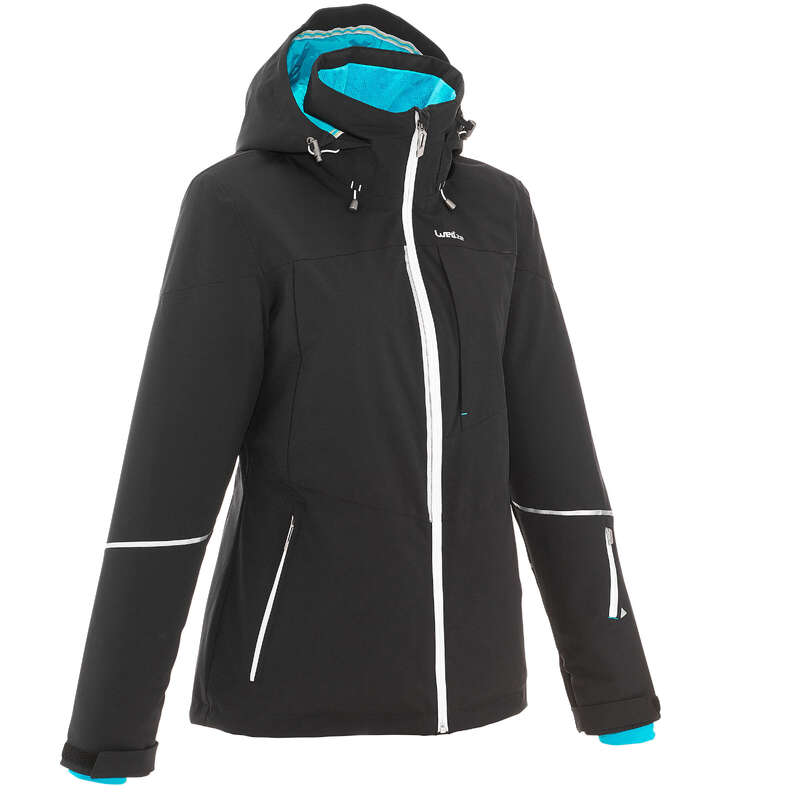 Evaluation of the entire life cycle of the product, its impact on the environment, including climate change and the depletion of natural resources.
Know more
WOMAN'S FREERIDE SKIING CLOTHING
WEDZE AM580 Women's All Mountain Skiing Jacket - Black
WEDZE
Decathlon
This price includes a recycling fee for electrical equipment and batteries
DecathlonDeeeTaxMentionAfterPrice
/
Since
From 21/03/2019 To
* Sales from

to

Until end of stock
* From

21/03/2019

and limited stock
This price includes a recycling fee for electrical equipment and batteries
DecathlonDeeeTaxMentionAfterPrice
/
Since
* From To
* Sales from

to

Until end of stock
Designed for advanced skiers or snowboarders who practice mainly on the track. This Wed'ze women's snow jacket combines excellent waterproofing and good freedom of movement. It's elegant and technical; perfect for days spent skiing.
Wadded for warmth
Waterproof ability
Multiple secure pockets
Evaluation of the entire life cycle of the product, its impact on the environment, including climate change and the depletion of natural resources.
Know more
Cuffs
Cuffs with anti-snow intrusion to keep you dry and warm in case of snowfall, or a fall in the snow.
What is water repellence for?
Water repellent fabric allows water to run off its surface without seeping in. This prevents the fabric from soaking up water, keeping it lightweight, breathable and warm. The water repellent properties are obtained by treating the outer surface of the fabric. This treatment needs to be restored during the garment's lifetime (we recommend every 3 washes). All Wedze jackets have received a water repellent treatment.
What is a membrane or coated component?
The coating is like a paint applied inside the fabric that makes the component waterproof while remaining breathable. It is often less expensive than a membrane and requires a lining to protect it. The membrane is like a very fine plastic film (polyurethane) that waterproofs the component while keeping it breathable. The advantage is that it is more flexible, lighter, more durable and often more breathable than a coating.
What is the breathability of a component?
To determine whether a fabric is breathable, we test its evaporative resistance or RET (based on the ISO 11092 standard). The lower a fabric's resistance, the more water vapour generated by the body during sports can escape through the fabric, and the higher its breathability. For example: RET < 9 = extremely breathable fabric / 9 < RET < 12 = very breathable fabric / 12 < RET < 20 = breathable fabric / RET > 20 = low or non-breathable fabric.
How do we measure the waterproofing of a component?
We measure a fabric's resistance to a water column, in mm (based on the ISO 811 standard). The higher the water pressure withstood, the more waterproof the fabric. A component with a waterproofing resistance of 2000 mm resists the pressure of 2000 mm of water
How do we make waterproof clothes?
The waterproofing of the garment is linked to its component, the waterproofing of its seams and how it is assembled.
Then our clothing undergoes the shower test
How will my ski jacket keep me warm?
We use wadding for insulation to help keep you warm. This polyester-based synthetic material traps air, the quantity of which will depend on the size of the fibres. Standard, technical and silicone wadding are available, each with its own distinct properties: warmth, lightness, flexibility, etc.
How do I know if my clothing is breathable?
In addition to the breathability of the fabrics, we use technical solutions (zips, ventilation, mesh, etc) that improve the general ventilation of our jackets and trousers designed for Freeride or All Mountain skiing. These ventilation systems enable both the regulation of temperature inside the clothing and facilitate the wicking away of perspiration generated by the body during exercise.
How should I dress to avoid feeling cold on the slopes?
To keep warm and dry, apply the 3-breathable-layers rule: 1 skiing base layer, 1 liner jacket to keep warm and 1 ski jacket to protect you from bad weather.
How can I prevent snow from getting in when I fall?
The snow skirt is a protection system at waist level that closes with press studs at the bottom of the ski or snowboard jacket. It prevents snow and air from entering during practice and especially in the event of a fall.
Where can I put my ski pass when taking the ski lifts?
You no longer need to get your ski pass out because your sleeve has a ski pass pocket to allow you to access the cable cars quickly.
Product environmental impact comparison score
The environmental impact of the product is calculated over its entire life cycle using different indicators. An overall ABCDE mark is given to help you easily identify products with the best environmental performance by comparing similar products to each other (T-shirts, trousers, backpacks, etc). For Decathlon, this initiative to display environmental data is a priority. For more information: http://sustainability.decathlon.com/
Care instructions:
Wash inside out. Wash with zip closed. Wash alone. Do not use fabric softener.
Washing instructions
Machine wash - 30° max - normal
Stock advice
Store on a hanger and do not fold, as this can damage the fabric coating. Dry thoroughly before storing in a dry and well-ventilated place.
12 Decathlon clients who took part in the product validation process during the field tests conducted at Tignes as part of the final product development phase. Are you interested in becoming a tester? Contact us at wedze.com!
Test Product
Our Wed'ze products are tested in the real conditions of use for which they are designed - the snow, cold, and all the conditions you might encounter when skiing and snowboarding. The design teams make sure that the purpose for which the product is designed and developed matches its real-life use perfectly.
Waterproof
Ski in all weather, 5000 mm membrane and waterproofed main seams
Breathability
Ski at your own pace, RET12 membrane to wick away perspiration.
Freedom of movement
The loose fit and stretch component will keep your movements free.
Warmth
Standard wadding 100g/sqm (chest), 60g/sqm (arms). Suitable for 0° to -5°.
Pockets
6 secure pockets with 1 ski pass pocket & 1 mesh pocket for storing your mask
Adjustable
Velcro cuff fastening Snow skirt storage
Durability
Durable component and overstitched seams. Excellent stability after washing.
Ease of use
Adjustable hood, snow skirt and audio outlet.
Reviews by our Team Members