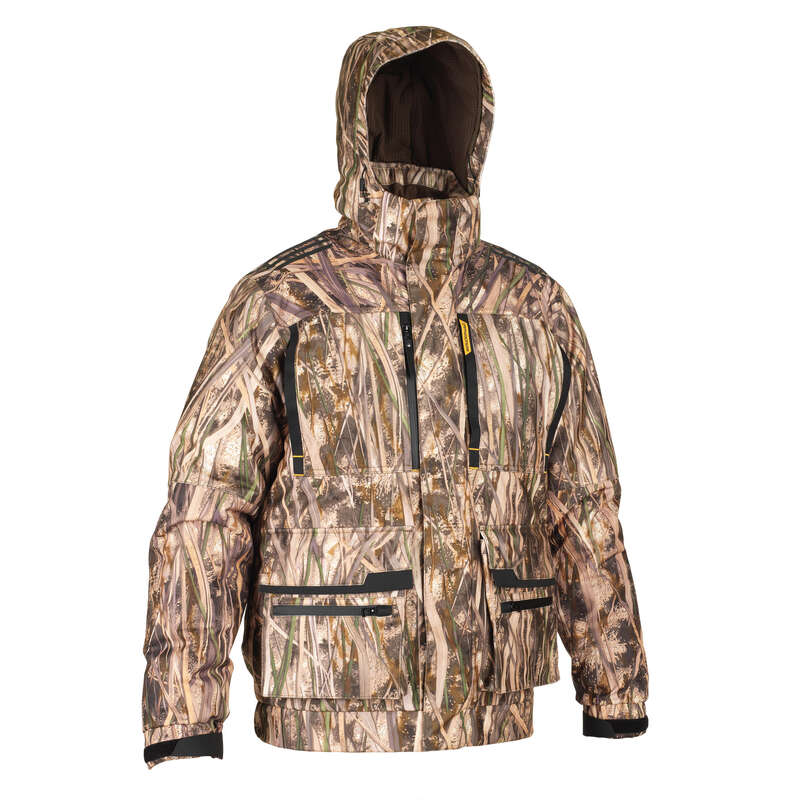 Evaluation of the entire life cycle of the product, its impact on the environment, including climate change and the depletion of natural resources.
Know more
CAMOUFLAGE REEDS CLOTHING
SOLOGNAC 900 3 in 1 hunting jacket wetlands camo
SOLOGNAC
Product not available online
Decathlon
This price includes a recycling fee for electrical equipment and batteries
DecathlonDeeeTaxMentionAfterPrice
/
Since
From To
* Sales from

to

Until end of stock
This price includes a recycling fee for electrical equipment and batteries
DecathlonDeeeTaxMentionAfterPrice
/
Since
* From To
* Sales from

to

Until end of stock
Our hunting engineers and designers developed this jacket for keen duck, geese and wader hunters who go out when it is very cold and rainy.
Go out whatever the weather with this 3-in-1 warm, wind- and waterproof jacket: Whether it's raining, windy or the thermometer has dropped to -10°C, you can carry on hunting waterfowl.
Evaluation of the entire life cycle of the product, its impact on the environment, including climate change and the depletion of natural resources.
Know more
Camouflage
Realistic wetlands camouflage design with 3D effect to stay invisible.
Warmth
Quilted jacket and padded lining for good thermal insulation
Flexibility
The sleeveless jacket underneath is removable: you can wear it by itself.
Waterproof
Waterproof jacket: stay dry while hunting, even in prolonged heavy rain
Wild vegetation resistance
Main component is 100% polyester for optimal resistance to abrasion.
Freedom of movement
Concentrate fully on your hunt, the jacket will follow all your movements.
Anatomic design
Move your head freely: the hood will follow as it is adjustable in 3 dimensions.
Waterproof
The interior cuffs and double wrist fastening ensure that arms stay dry.
To face and combat the cold without fear, our advice is quite simple: put on this ultra warm jacket!
Are you looking for a very warm jacket to wear for hours on end in a damp and cold atmosphere? Look no further: This jacket has been designed so that you can hunt without feeling the cold even at temperatures as low as -10°C! Thanks to 200g/m² of quilting on the body section and a fleece-lined hood (which is removable), this model offers maximum comfort. What's more, the sleeveless quilted jacket inside, which can also be removed, increases thermal insulation and the feeling of warmth.
You're safe from rain and splashes of water in windy weather: this 900 jacket is waterproof
When conditions get bad and you're wondering what on earth you're doing outdoors in such terrible weather, the most important thing is to stay dry. We measure a fabric's resistance to a water column, in mm (based on the ISO 811 standard). The higher the water pressure withstood by the fabric, the more waterproof it is. This jacket resists water pressure of 5000mm (the equivalent of sustained heavy rain lasting 3h): being wet whilst out duck hunting is now a distant memory.
You have no idea what water repellency is? No problem, let me explain
A fabric's water repellency is its ability to let water slide on its surface without absorbing it: this prevents the fabric from swelling and keeps it light and breathable. Fabric is rendered water-repellent by applying a treatment to the outer surface. In other words, our 3-in-1 jacket for waterfowl hunters is ideal whether you are out on publicly owned coastal land, in a hide or waiting for ducks to fly by in the rain. Not a single drop of water will penetrate this jacket: you will stay dry.
TO PARODY A FAMOUS SAYING: "THE WATER SHALL NOT PASS"!
As we have already seen and explained, our special waterfowl hunting jacket is waterproof. However, when you raise your rifle in direction of the ducks flying in the sky, water can enter through the cuffs when it is raining. To solve this problem, our garment is fitted with adjustable inner sleeves with riptabs. Likewise, the cuffs can be adjusted to be as tight as possible.
A windproof jacket that has been designed to protect you from changing weather conditions and constant wind
There is nothing worse than gusts of wind whipping around your body when you are in position waiting for geese, teal and other waders to pass by. And this is precisely why our jacket is windproof. Its outer fabric features a membrane that also increases the feeling of warmth. Ideal for spending many a happy moment on the water's edge (whether it be on the coast, on wetlands or at a lake), even if the wind is strong (about 50kmh), and ongoing.
A versatile camouflage jacket designed to guarantee total concealment in many different biotopes
This hunting jacket has the exclusive SOLOGNAC wetlands camouflage pattern, designed for better camouflage in the eyes of waterfowl such as geese, ducks and teals. With its ultra-realistic pattern of vegetation (rush, grass, reeds), a distinct 3D effect and a background with contrasting light and dark shades, this jacket lets you blend into any type of undergrowth, at all hours of the day and at dusk. Discretion and concealment guaranteed!
Pockets to ensure that you have cartridges, papers, car keys, bird calls and other accessories immediately to hand
The jacket has a zipped inside chest pocket, 2 big double pockets (closed by means of a flap and two poppers in order to have a maximum number of cartridges easily accessible), as well as 2 pockets with watertight zips on the front. It also features 2 chest level hand pockets which have been designed for keeping your duck call, phone or hunting permit readily available. There is a last pocket, closed by means of a vertical waterproof zip, on the front right-hand side.
The small benefits of this silent jacket
This jacket undeniably can handle anything: on the back it features a game bag into which you can slip ducks shot down as they fly by. It goes without saying that the vertical zips on this game bag are waterproof. The hood is removable and can be adjusted to fit your head size using the drawstring at the back, features an "extension" on the top section which prevents water from running down over your forehead and face. By the way, did we already mention that this jacket doesn't make any noise?
A removable sleeveless jacket as part of the jacket: Worth the thought!
Apart from the large zip and the solid poppers allowing you to do up and undo the jacket, which also features an internal sleeveless jacket that you can leave in place or remove when the temperature rises. This sleeveless jacket is also padded and has an internal zipped pocket and two hand pockets. This accessory will delight wildfowl hunters at the beginning of the hunting season or in the autumn, when worn with a long-sleeved t-shirt or even a fleece.
A jacket that has been designed by and for waterfowl hunters out in damp, windy environments at very cold temperatures
Whether night falls or at daybreak, from October to the end of February, this jacket is perfect for going out hunting mallards, geese, teal and other waders. Whether hunting ducks as they fly by, or positioned in the hunting blind (which requires hunters to arrive earlier to tether and set up the callers), the hunter isn't worried about the cold: passion overrides everything. Even if the edges are frozen, the hunter goes out whatever the weather. Nothing stops you when you're wrapped up in this!
THIS MULTI-PURPOSE JACKET IS ESSENTIAL FOR ANY KEEN DUCK HUNTER
This jacket is suitable for wearing under waders without impeding the hunter's movements. Worn with a wetlands camouflage warm pair of trousers and fleece hat, this jacket completes your outfit to conceal yourself from shovellers, widgeons, mallards, pintails, gadwalls, pochards and others. Come on, you're not going to tell us that you're not already imagining yourself setting up your duck decoys and callers in the water, with rope, hooks, swivels.... etc.
How much does this duck hunting jacket weigh?
For size L, the detachable gilet alone (1st way of using this 3-in-1 product) weighs 425g, while the jacket alone without the detachable gilet (2nd way of using this 3-in-1 product) weighs 1.765g.
The jacket + detachable gilet together (3rd way of using this 3-in-1 product) weigh 2.19kg.
Composition
92.00% Polyester (PES), 08.00% Elasthane
100.00% Polyurethane (PU)
Care instructions:
Do not use fabric softener.
Washing instructions
Machine wash - 30° max - normal
Stock advice
Store jacket in a cool, dry place away from direct light.
Restricted use :
Keep away from fire and from heat sources in general.
Test Product
This jacket was tested by our ambassadors and testers during various wildfowling sessions in the North of France, and in the Gironde and Camargue regions.
REVIEWS BY OUR TEAM MEMBERS